Askos Stone Park - Hungry deer, boiled raccoons, turtle and Chubais, are waiting for you in the park (Zakynthos, Greece)
Askos Stone Park
is a beautiful natural ensemble located in the north of the
island of Zakynthos
, in the distance from the capital with the same name
Zakynthos
, and from the majority of tourists.
Ticket office and park entrance
The entrance to
Askos
Zoo starts from the ticket office located on the highway, which looks like a bus stop, under the visor of which there is a miniature ticket booth.
It may very well be that this design is really a dual purpose (bus stop, and the ticket office of the park) - all in one bottle. In
Zakynthos
, as in many other provincial places of
Greece
, they do not build pompous constructions for those technical objects that really do not need it. The Greeks are wise in this business. It turns out both economically and aesthetically. In this case, the modest ticket office of the
ASKOS
park does not hurt the eyes, but fits perfectly into the landscape of nature.
The cost of admission to the park, I do not remember exactly, but somewhere around 7-8 Euro per person. It is quite reasonable price.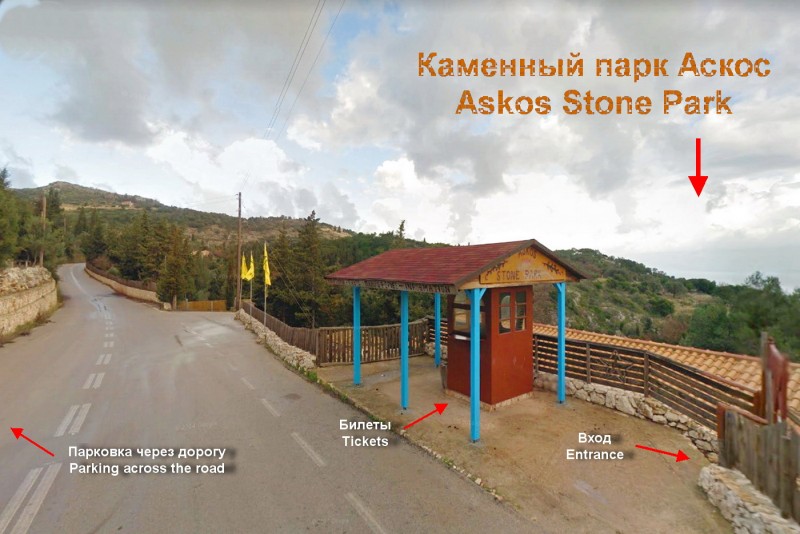 Five steps from the ticket office, on the right side of it - zachuhannaya gate. Immediately you will not even understand that this is the entrance to the park, and not to anyone's private territory. But, the cashier prompted us - pointing the hand at the entrance, and asking her to slam it behind her, apparently, so that any goat from the zoo did not run away through the open sash. After all, animals roam there freely, by themselves, where they want and where they want.
Immediately after entering the park
As you enter the park, descending a little down the stairs, the first thing that you get in your way is a stone building like a hut, with benches under a shed.
Go into it - there you will be given drinking water, one half liter bottle for each mouth. This water is included in the entrance ticket.
If you have a large water reservoir and this standard of water is not enough for you, then here you can buy additional water (or other) as much as you need.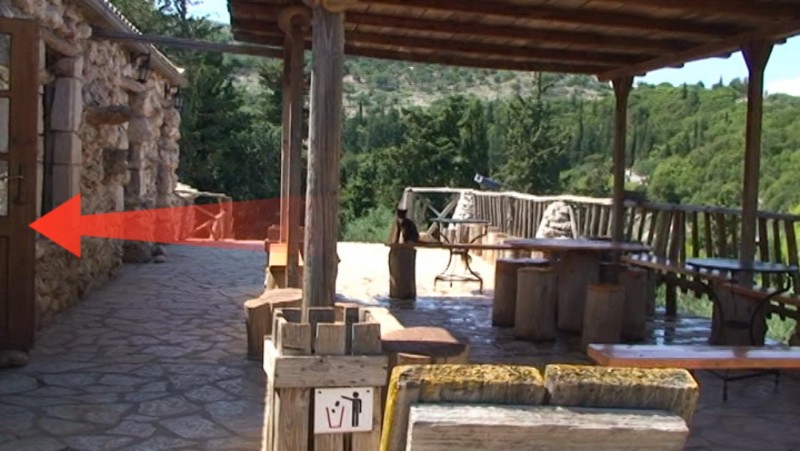 If you do not have camel endurance, then you really need drinking water. Park
Askos
, though immersed in greenery, and you can always find a shady place to relax, but on a sunny summer day this is not enough, and I really want to drink. Increased thirst is also caused by the fact that the relief of "
Askos Stone Park
" is not constant, and all the time you have to walk along stone paths, up and down. And you can stock up with some water only at the beginning of the park, as you enter. Further, in the entire park there are no stalls, there is only beautiful nature. Of course you can get drunk with this beauty, but really drink - the desire will remain.
Start of the route
Navigating the park
ASKOS
does not cause problems. Simply walk the stone paths according to the arrow signs. So you go around the whole park, do not miss anything, and return to the starting point.
Walking through the
Askos
Zoo, spotted deer will be found. At the very beginning of the park, there are also deer, but here they prefer to just lie around and rest. And if you approach them, they, not without reason, will show you the backside, waving you their short tails in farewell, saying thus: "there are no gifts - there is no relationship either".
Do not despair, further, in the depths of the park there will be more compliant individuals of deer.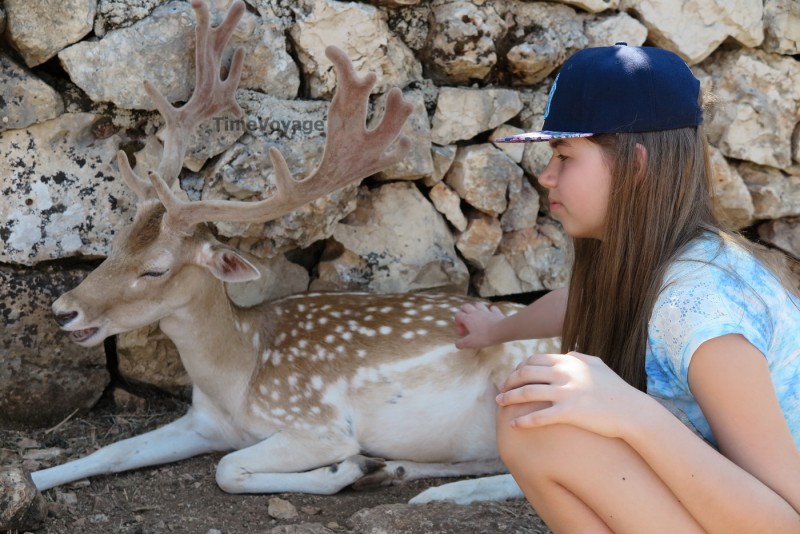 Important advice
All the paths in the zoo - stone. Not for nothing is it called "
Stone Park Askos
".
Going to the park, do not wear reckless shoes like my girls. In beach slippers, jumping on crooked stones is a little difficult. As it turned out, such beach slippers are not at all sympathetic to the cobblestone paths, and sometimes showed their disobedient behavior to their mistress, trying to stick to the stone at an unexpected moment and turn her leg out.
Therefore, use other suitable shoes!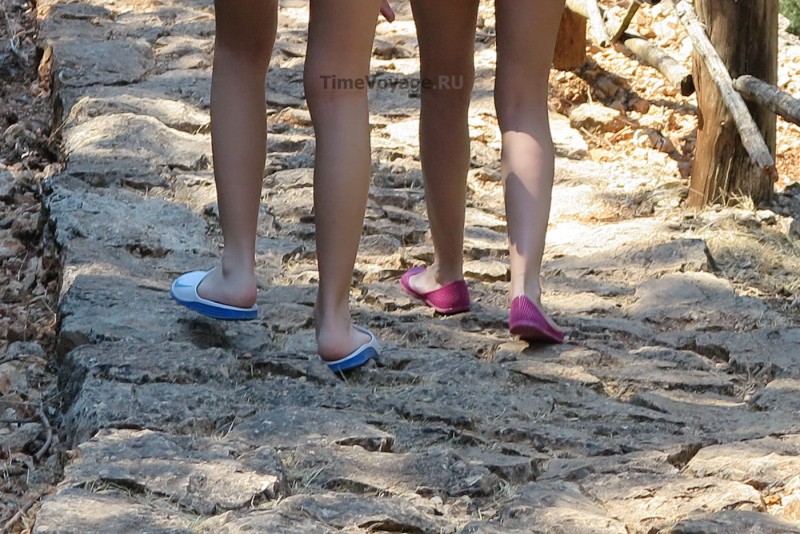 Feeding spotted deer
After some time, the path will lead you to the central patch of the park. This is the favorite place of the main crowd of
spotted deer
. Despite the fact that deer roam freely on the territory of the entire zoo
ASKOS
, and you can meet them in principle everywhere, but at this point they are going to the most. The deer are together here, not for holding an extraordinary meeting of zoo members, and not to gossip with their neighbors as goats, but only because they are lured by their favorite delicacy - olive sprigs on this patch.
And so, having heard our approaching steps, the deer realized that tourists were coming, which means that a delicious feeding was planned - eating leaves from the olive branches. And they began to carefully surround us.
An employee of a zoo, a middle-aged man, was drawn from somewhere, and he had freshly cut olive branches in his hands, which he handed to us. This park worker turned out to be a Russian-speaking person, which seemed unexpectedly strange to us (how he got there, at work, somewhere in
Greece
, on some island of
Zakynthos
, in a mountain park, among some deer), but he turned out to be pleasant a man, he briefly explained everything to us, and suggested how to feed our smaller brothers.
Just give the deer a green branch covered with leaves, and already literally in a few seconds this branch is completely bald. Whether the animals are a little undernourished specifically, without giving a rate of basic food, so that they are in a slightly hungry state, so that tourists are not afraid, and begging for food around them, emphasizing the role of a contact zoo, or whether these olive leaves are really for them, like a gastronomic creative, i don't know. But they gnaw fast, and even not completely gnaw, but somehow cleverly lick and suck their lips. And do it very carefully. If on the way of eating the olive leaves will be your fingers, then do not be afraid, the deer sensitively feel where the tasty things are, and where your "tasteless" fingers are, and will bypass them.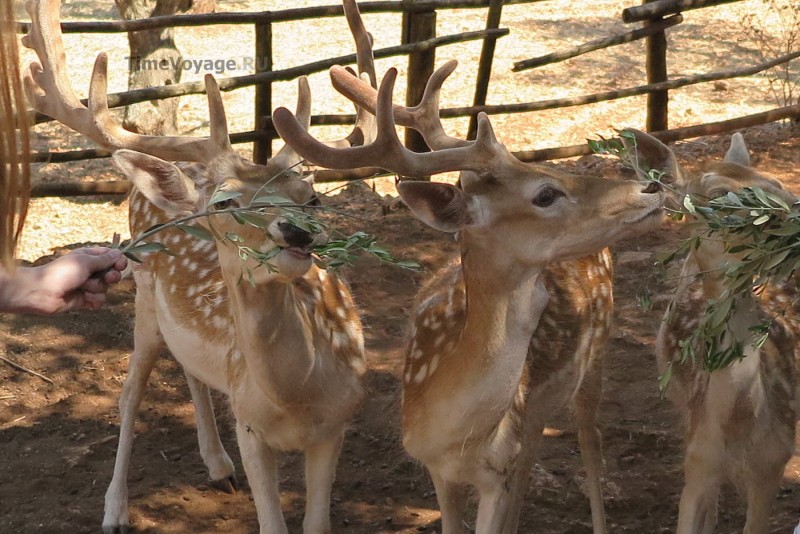 Goats and Chubais
A little further is the paddock. Who is in it? - Some goats.
I do not know what is so outlandish in them that the administration of the zoo for some reason contains them. For me personally, they are goats, like goats, and nothing special.
By the way, these horned can also be fed with olive branches. But they eat them not as delicately as deer. Goats literally pull the branch out of their hands, with all the dope. Even by the hands it becomes scary.
Next to the goats, «Chubais» is adjacent - a common but photogenic pony.
Just think, found something to surprise people, some pony! But at least one can understand why he is needed in the park, unlike some goats there, probably in order for small children to ride on it.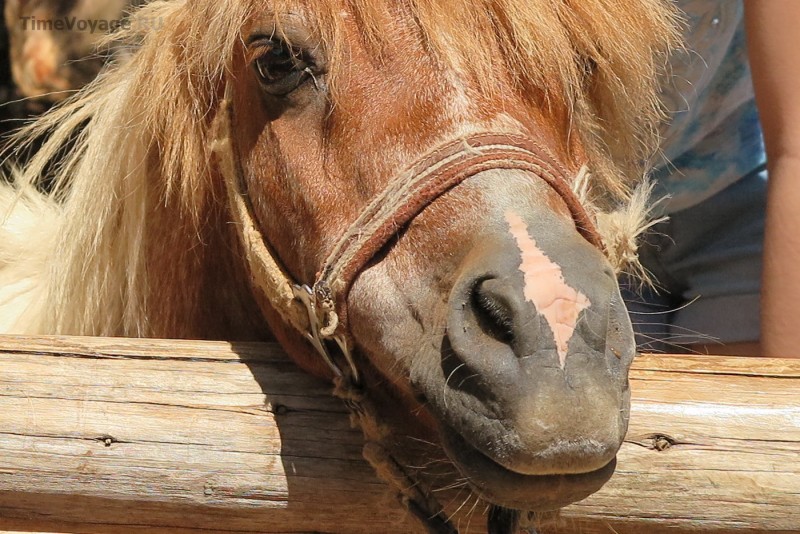 The object of worship (pop idol)
But, the main attraction of the
Askos
zoo is, of course, the usual stinking turtle, in a "huge" to disgraceful - half-meter box, crawling in it with a belly in its own shit.
For the sake of this tortoise, in general, we flew for several hours on a plane, from
Moscow
to the island of
Zakynthos
, to take a picture with her)))
After that, we can proudly say that our mission has been accomplished!

Feeding raccoons
If you go even deeper into the park, you will face a raccoon hangout. Unlike deer, these sneaky animals are kept in a net enclosure. Otherwise, they would have dispersed, who where, and even outside the
ASKOS
zoo, because raccoons can climb almost any vertical wall.
The same employee of the zoo, poured some food for raccoons to us, and began to whistle in a peculiar way, thereby causing the gang from the den, and calling them to us. But these robbers were in no hurry to crawl out of their huts. Some kind of laziness attacked them because of the hot weather.
When the raccoons nevertheless approached us, it was clear from their boiled appearance because of the heat that they didn't want to do anything artistic in such hot weather.
And only for a tasty bribe (hidden in our hands), the raccoons livened up a bit, and began to climb onto the net of the open-air cage to reach out with their paws - to our hands.
This did not last long. As soon as the feeding was over, the raccoons understood this, turned around and went about their business, leaving us with dirty hands.
The aforementioned employee pointed to a blue water tank (sink) and disappeared. We didn't see him in the park any more, as well as none of the other people.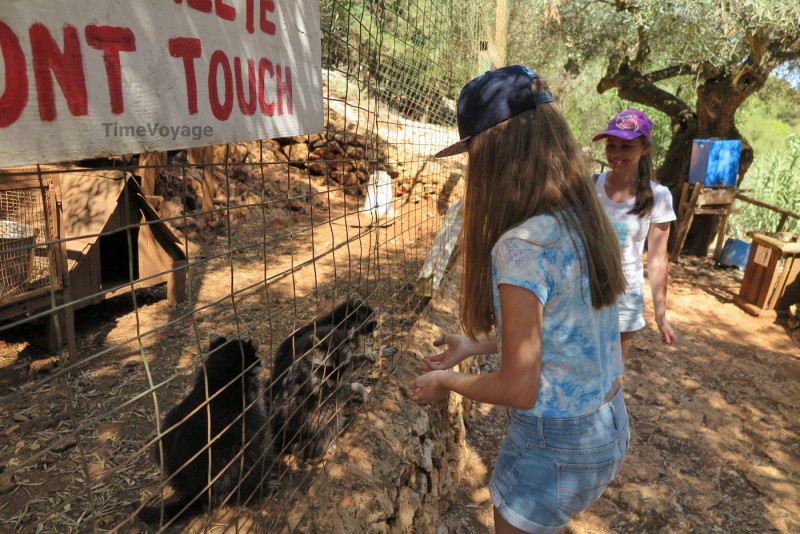 Nature Park Askos
After the "circus" with boiled raccoons, there are no longer any enclosures, but
Askos Stone Park
does not end there.
Next, you are on your own. You walk on stone paths, admire the views, enjoy the divine Greek nature. And what an air in the park, awesome!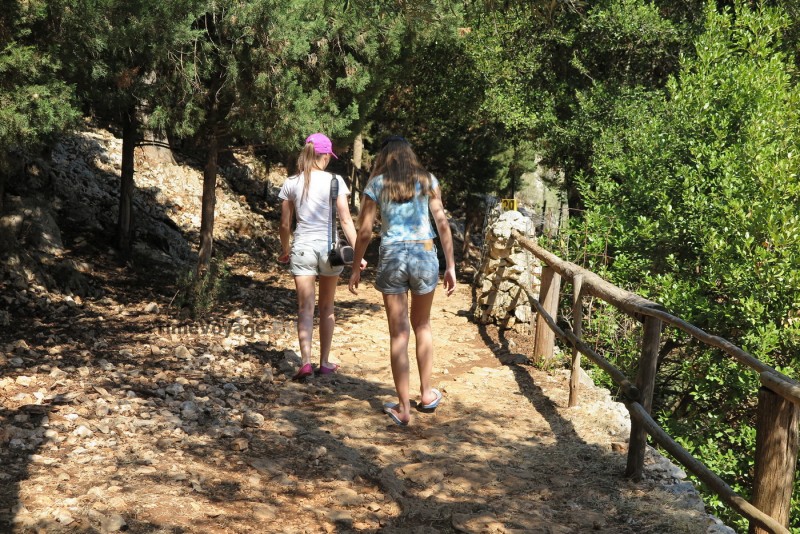 Shady places are provided for rest. Around a variety of deciduous and coniferous trees, on which huge
singing cicadas
(insects in the form of flies) are sitting and singing with all their might. And cicadas sing so skillfully that you don't even want to get up from the benches from such musical relaxation. If there was free time, then at least lie down and enjoy, under it all. Moreover, there is not a single soul around, we are the only tourists in the whole park.
Olive trees - an essential attribute of
Greece
. On the island of
Zakynthos
, they grow everywhere. Zoo
ASKOS
is no exception in this regard. The older an olive tree grows, the bizarre its trunk becomes.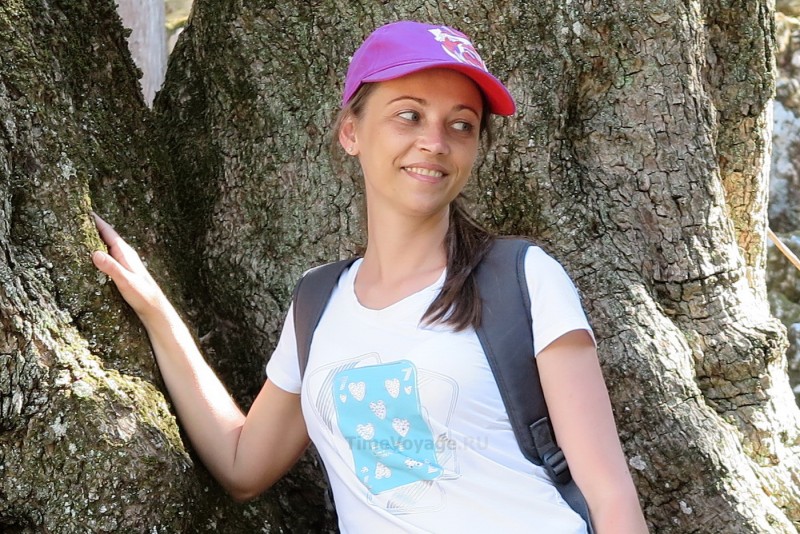 Peacock - like a chicken
At some point, a handsome peacock joined our walk.
Of course, peacocks are the most colorful characters of
Askos Stone Park
, but at the same time the most senseless. They are very careful. I want to get closer to the peacock and take a picture, and he immediately makes his legs. And vice versa, if you stop paying attention to him, he begins to behave like a stupid hen, crossing your path, demonstrating the technique of "sports" walking.
As a result, in order to make a joint selfie with this "chicken", you will have to be patient and run a little after it.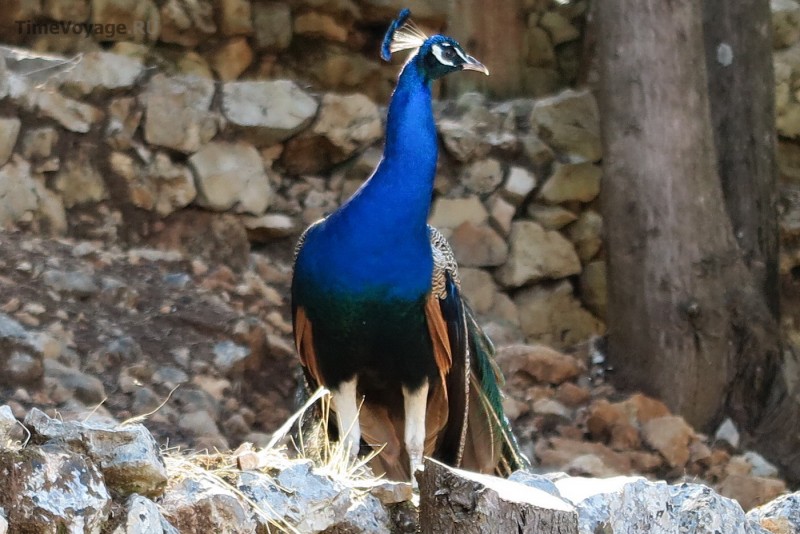 The whole territory of the
ASKOS
park is amazingly beautiful, no matter where you are. And from some points even the view of the
Ionian Sea
. Beauty!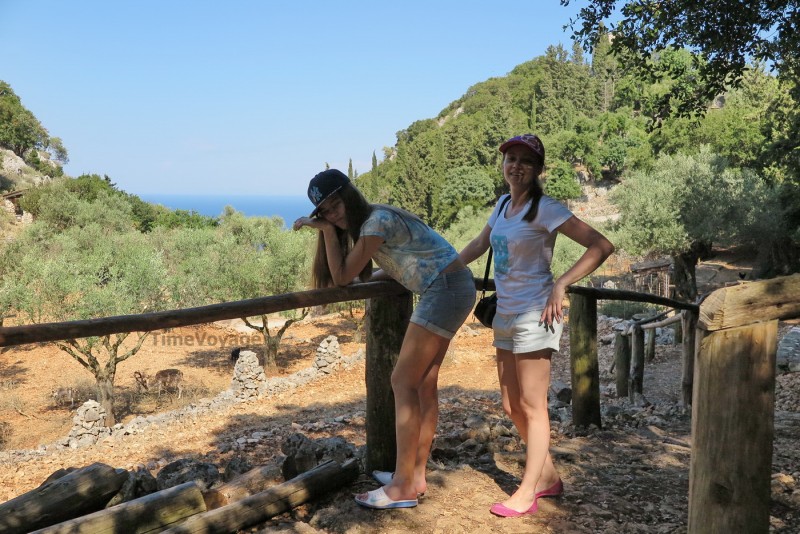 So what is "Askos Stone Park", a zoo or just a natural park?
Someone calls it «
the zoo of Zakynthos
», defining the functionality of the zoo with this phrase, thereby enhancing its status.
But it seems to me that the additional word "zoo" is just a flattering exaggeration. He does not reach the zoo. The presence of some primitive animals (except deer) that freely roam around
Askos
Park, such as
peacocks
,
cats
and
chickens
, does not turn the natural park into a ZOO, but only harmoniously complements Kamenny Park with living creatures, creating a more pleasant atmosphere in the park.
«
Stone Park Askos with elements of the Contact Zoo
» - this name more faithfully describes the functionality of the park.
The absence of a huge variety of other strange animals in the park does not worsen it, but on the contrary, it only makes the park better. Otherwise, the park would not be a park, but some kind of wretched "
close menagerie
" such as our
Moscow Zoo
, which has different animals, but no sense from them - fences, guards, fences and barriers, noise, stalls, confusion, thousands people jostling around the enclosures, and behind them not a damn thing is visible. You want to take a picture of a natural deer, and instead of it some "Elk" in a cap and sneakers gets into the lens.
Thank God, there is no such shit in Park
Askos
!
How to get there
Askos Stone Park • get directions
In no case do not go to the park with the help of collective sightseeing bus tours, which are organized by the tour operator or travel agency.
Drive to the
ASKOS
park on your own, in any way and on anything:
on a rented car
, on a taxi, or even on an ATV, but not with the help of a general sightseeing trip organized by a travel agency.
Why? - The answer is simple, and it is obvious in our example.
Arriving at the park on our own, we were the only tourists in the territory of this large reserve. Peace and quiet, only the sounds of animals and the loud singing of cicadas.
Of all the
Askos
Park employees, for all our time there, only three employees caught our eye: 1) the cashier at the ticket booth, 2) the aunt who gave us drinking water at the park entrance, 3) the man - the park employee who supplied us olive branches for feeding animals.
We are alone in the park! Around beauty and idyll!
And just being on the main patch of
Stone Park Askos
, where the feeding of spotted deer is organized, two female tourists "stuck" to us, who came to the park later than us, but at a gallop caught up with us in that place, when we started feeding and photographing deer
Pancake! You want to take a picture of your spouse and daughter, from the angle I need, and so that only horned, spotted deer are in their surroundings, but two suckers that have caught up with us crawl into the frame all the time. Moreover, because of these suckers (tourists), our school of deer became two times less, because a part of the animals, at once treacherously turned over to feeding to these painted young ladies.
Fortunately, after feeding the deer, these girls had "resorbed" somewhere, and we did not see them again.
Now imagine what will happen in
Askos
Park, if you come there not alone, but on a tourist bus full of people?
Therefore, spit on sellers and organizers of common excursions, and go to
Askos Stone Park
on your own!
And besides, without being shackled by excursion shackles, after leaving the park, you can go to have lunch at the wonderful restaurant
The Old Windmill
, which is located about 150 meters from the park, on the mountainside, with a fantastic view of the
Ionian Sea
.
Summary
Askos Stone Park
is a picturesque, tranquil and secluded corner of
Zakynthos
island nature, which you should definitely visit. It will appeal to all, both adults and children, who will undoubtedly be delighted with the contact zoo.
We recommend!