Cafe PORTOKALI (Argassi), drink - you can, eat - so-so
While settling in a hotel room, dusk came on the street, and soon it got completely dark.
Hungry and a little tired, we crawled out of the hotel for a snack in some cafe. But in which?
We decided to walk around
Argassi
a bit, look around a bit, and dive into that cafe, which we will visually like.
The village of
Argassi
(on the island of
Zakynthos
) consists of one main street and several secondary branches from it. The whole evening party takes place mainly on the main street, stretching along the coast. It also has the most cafes and bars.
Since Our hotel was located almost at the very beginning of Argassi walking street, then we didn't have a question in the direction of movement, and we moved towards the center of the village.
On both sides of the road came across all sorts of cafes decorated in different styles. As a rule, all cafes or their attached terraces adjoin the road and have an open view for pedestrians. This is very convenient, because passing by, you can, without going into the cafe itself, to see not only the interior layout, but even look at the plates of visitors, so that on the basis of their dishes you can understand something about what they feed.
Of course, other visitors may have other tastes and preferences in dishes, it is possible! Well, how else can you understand the newly-minted tourist, in which cafe to place your ass, is it nice to sit and have a tasty meal?
We acted differently and thus made a mistake in choosing a cafe
Portokali Cafe
In
Argassi
there is a cafe
Portokali Orange
. It appealed to us precisely because, unlike other cafes, its interior decoration was beautifully hidden from passersby, overgrown with ornamental trees and vines. We pecked at it and entered the cafe.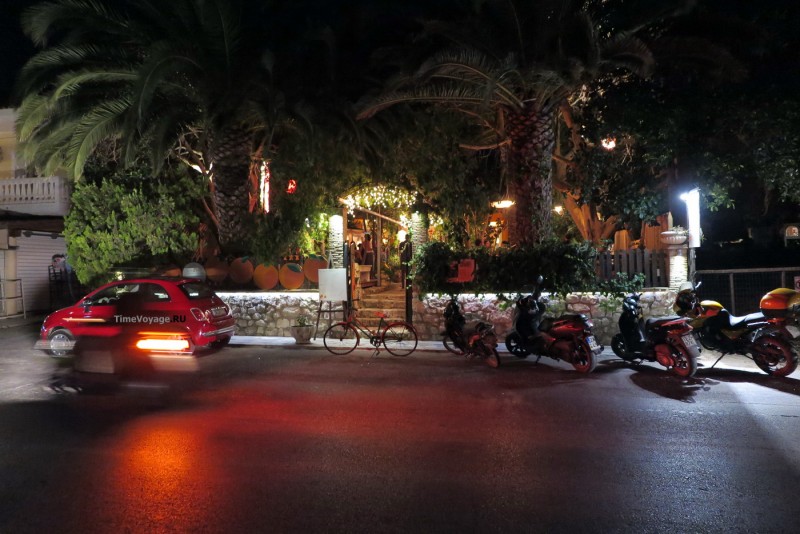 Passing through the gate, it turned out that the interior of the cafe is not inferior to its exterior. Most of the internal territory is professionally inscribed in the natural landscape of trees and shrubs. The tables are located under the branches of live vegetation, and all elements of the decor are beautifully and harmoniously made with nature.
At this all the delights of the cafe are over

Beauty - beauty, but do not forget that people go to a cafe to eat. And in the
Portokali
cafe, as with the process of catering, and with the menu, things are not very good.
- read the menu
- it is difficult, very dark, even had to highlight the text in the menu with a smartphone flashlight
- list of dishes
- meager
- food
- so-so, drools do not flow
- prices
- are too high
- a long time to wait for food
- you can fall asleep
- portion size
- "feline", i.e. far from greek
SummarizePortokali Orange
Cafe is a beautiful and cozy place where you can sit in the evening, calmly sucking some cocktail in the twilight. But eat tasty food in it, probably will not succeed.
P.S. In
Argassi
there is a cafe where prices are lower, the service is much better, and the food is much tastier.