There is such a mushroom place in the Moscow region, where even rare species of edible mushrooms grow
Recently we went to the forest for mushrooms. We got up early in the morning, even before sunrise, and went to the familiar forest of the
Moscow region
. While we were driving, we thought about how the forest would surprise and delight us today, what types of mushrooms would now come across to us in the forest and in what quantity, and whether there would be any at all, because this option is not excluded, and then our trip will be in vain?
Probably, every mushroom picker asks himself such questions, going to the forest for mushrooms. But no matter how you think about it, the answers to these questions will appear only upon arrival at the place - in the intended forest.
And now we are already there. We know this forest well, we have been in it several times. The forest is wonderful - mushroom, because. every time we went there for mushrooms, we never returned without mushrooms. Even in the driest weather, when it has not rained for a long time, mushrooms grow in this forest.
And now, as soon as we entered the forest and went deeper away from the road, mushrooms began to come across on our way.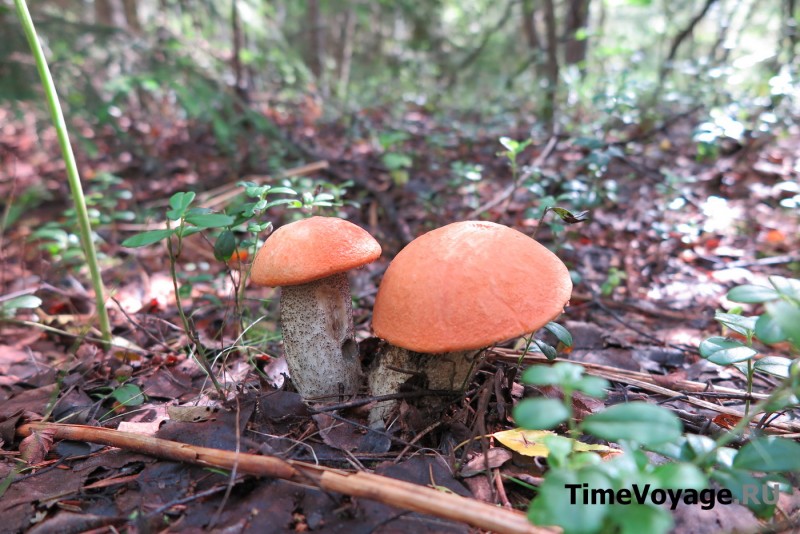 There are many mushrooms in the forest, the main part among them is
Leccinum
, among the people they are sometimes also called
Red-headed
mushrooms.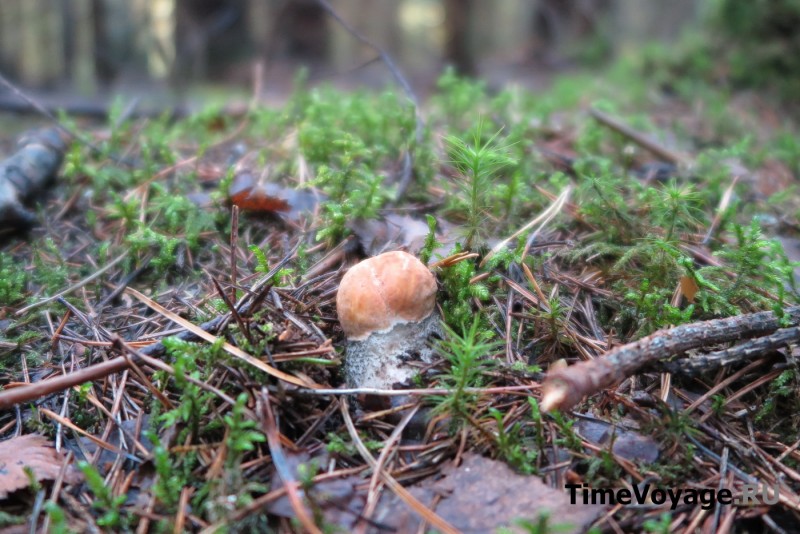 This forest pleased us with the fact that there are not only many mushrooms in it, but they also grow together in "families". One has only to stumble upon one mushroom, you see, and near it, as a rule, its "brothers" are still standing. The next photo is just a family of four
Leccinum
.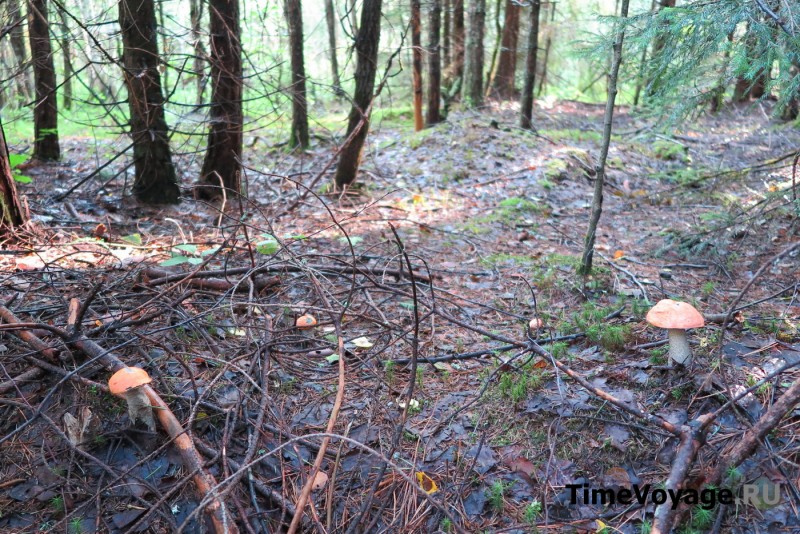 Some mushrooms are eaten by slugs, but this is not scary, the most important thing is that they are not wormy. In such cases, we jokingly say: It means a tasty mushroom, since the slug ate it.
But this translucent caterpillar, sliding off the mushroom cap (see photo below), we noticed only at home, looking through the photos. That's what makes photography so interesting. Sometimes only in a photograph you can notice that, and those small details that we usually do not notice, due to the fact that our attention is occupied with something more global - in particular, a quick scan of the forest surface with a glance for the presence of mushrooms.
And we sometimes do not have enough attention to such small details. It's a pity! After all, it's all so interesting, so natural, and so alive in the forest. Each cobweb with a spider, a frog crossing your path and jumping from bump to bump, a butterfly sitting on a leaf, a caterpillar crawling about its important business, and much, much more. Nature!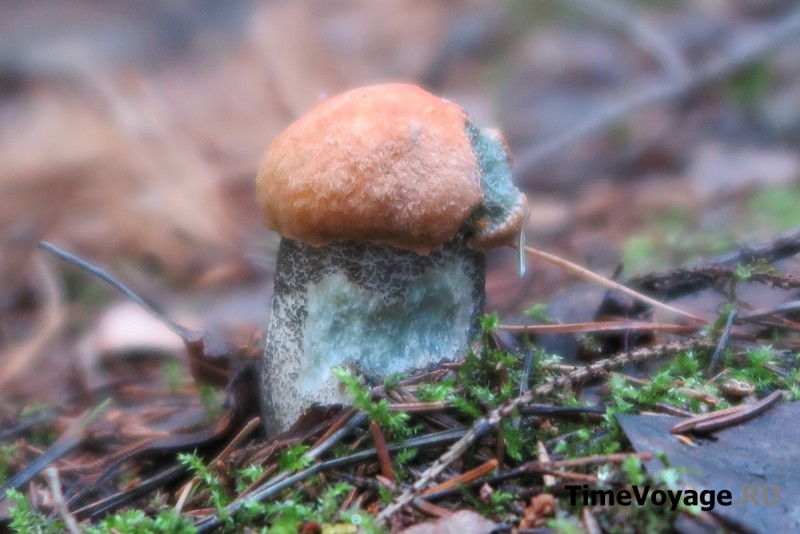 There are fewer
Boletus Edulis
in the forest, but they are also found.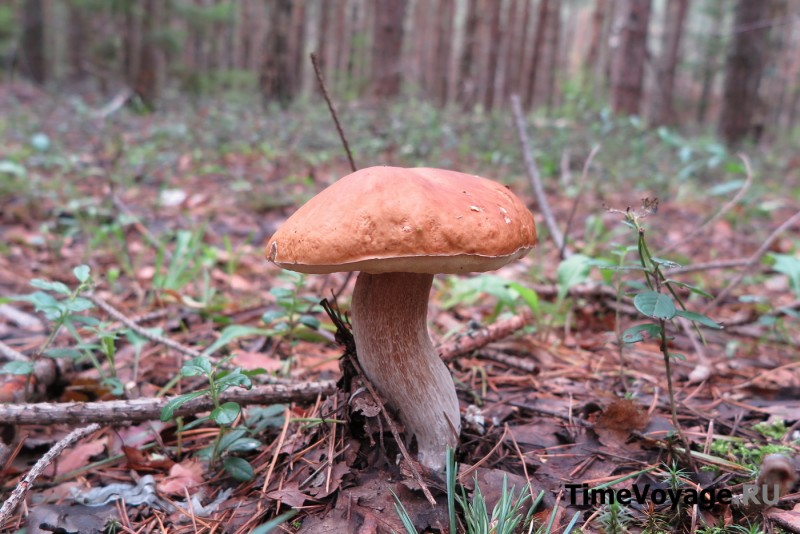 As for us, despite the fact that
Boletus Edulis
is considered a nobler species of mushrooms than
Leccinum
, we like the latter more, even despite their lower status, because purely visually,
Leccinum
look much more colorful and interesting in their appearance. What interesting legs they have in the "speck"! And what color varieties of hats they have, red, yellow-brown, orange, and there are even
Leccinum
albinos - completely white, like a leg, like a hat!
And wormy
Leccinum
, according to our statistics, are much less common compared to
Boletus Edulis
mushrooms. That's why Leccinum is our favorite mushroom.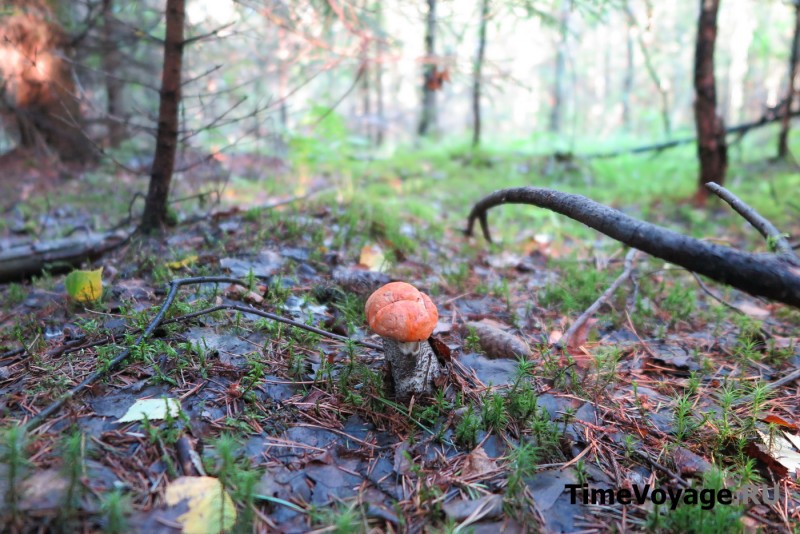 This bunch of
Leccinum
was assembled in just a few minutes. They all grew up in a small distance from each other. Picking one mushroom, they took a few steps, looked around, and found the next mushroom, and so on. It turned out eight mushrooms from one small area.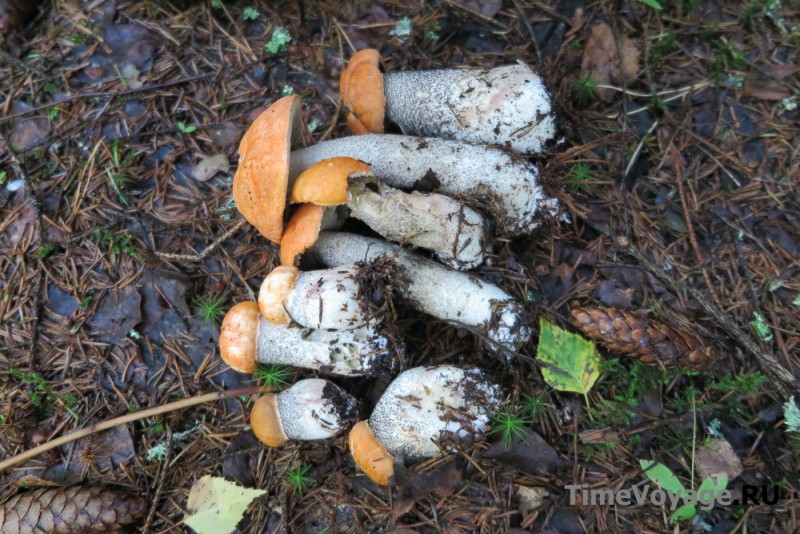 Further, the mushrooms did not end in whichever direction we went. They are everywhere,
Leccinum
,
Leccinum
and
Leccinum
...
Interestingly, before the trip, we looked at mushroom news on social networks. There, many mushroom pickers complained that there were few mushrooms in the forest, and someone even said that there were almost none.
But once in the forest, it became clear that everything that we read on social networks was not true. Mushrooms in the
forest near Moscow
are at least heaps, and some of them even grow to gigantic sizes. By the way, in the photo below, the second mushroom is not very clearly visible, but it is, and it stands in the background, behind the giant
Leccinum
, right under the tree trunk - an orange speck. This is also
Leccinum
, but younger than its older giant brother.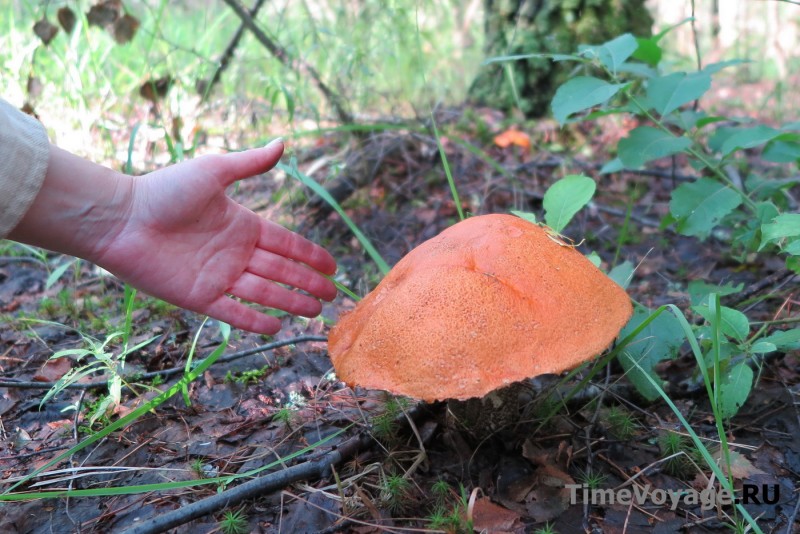 We go further, and along the way, wherever you look -
Leccinum
mushrooms of various shapes and sizes are all around. As they say - for every taste!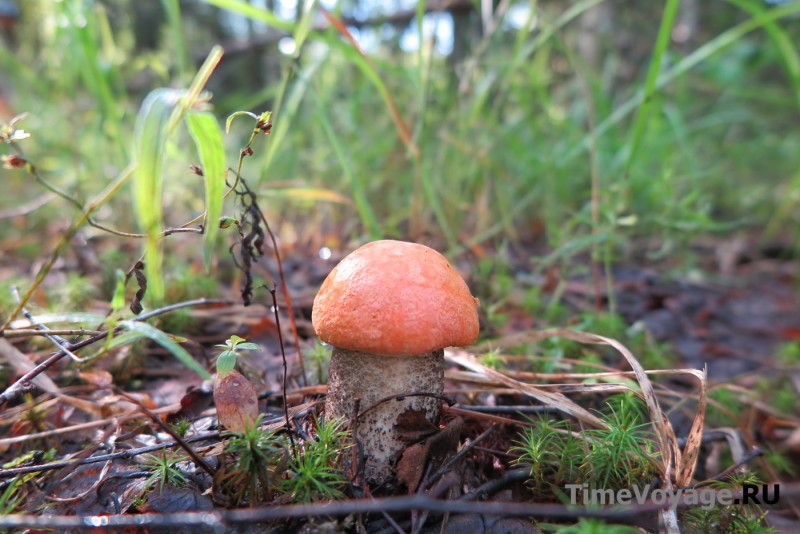 The most interesting find that day was
Lyophyllum Decastes
mushrooms. We found several bunches of them. Here it must be noted that this type of Rows in one bunch (bundle) can even have 100 or more mushrooms, and in some cases up to 200 pieces.
This is the third year in a row that we find
Lyophyllum Decastes
in the forests of the
Moscow region
. And before that, we had never met her, maybe she just didn't come across on our way, or maybe she wasn't anywhere at all - she didn't grow, we don't know what this is connected with. But in any case, the trend suggests that it either appeared or it became more.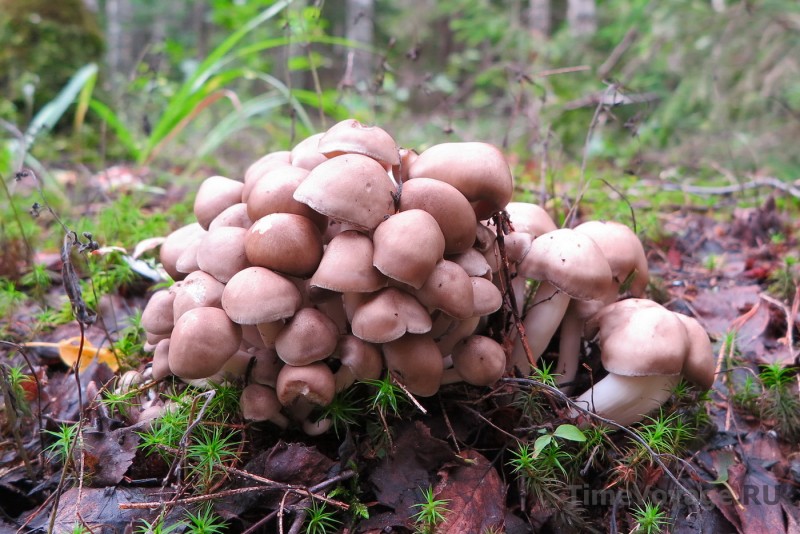 These mushrooms have an amazingly stunning appearance, but not separately, but together, when they are in the same bunch (in a bunch) and have not yet been separated from each other. That is why these mushrooms are called
crowded
. Such mushroom piles are noticeable from afar, and it is a pleasure to collect them.
Lyophyllum Decastes
looks best when young, with small, rounded caps that look like a bunch of mushrooms or forest coral in a bunch.
Yes, and it's convenient to collect them, pulled out a bunch, put it in a basket, and it's already, consider, a third full. Amazing edible mushrooms!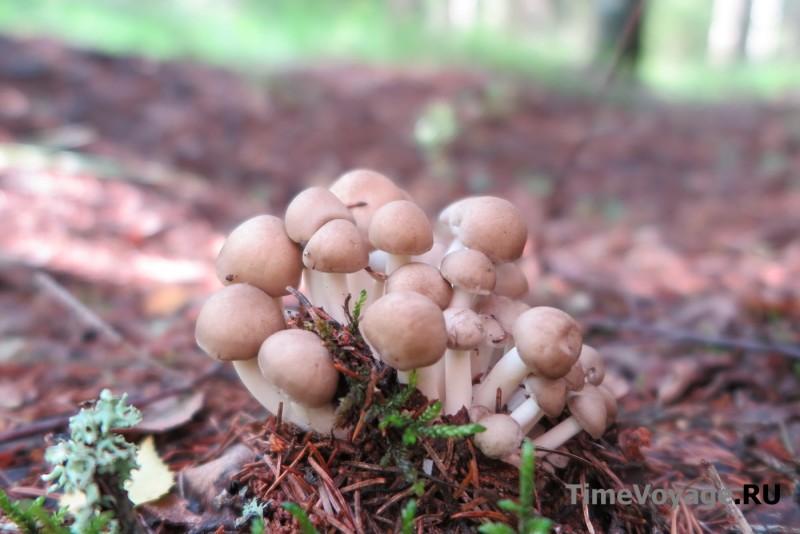 In this article, it is not possible to show photos of all the collected mushrooms separately, because there are a lot of them.
Therefore, all the other mushrooms that we found that day, and these are almost two baskets, and the process of picking mushrooms by us in this forest, with mushroom glades on which several
Leccinum
grow at once, you can see in our video below.
VIDEO: Picking mushrooms
Outcome
The trip to the forest turned out to be successful. There were a lot of mushrooms in the forest, especially
Leccinum
. We had a good walk, breathed in the fresh forest air, and returned home with non-empty baskets.
Happy mushroom hunting everyone!