Testicles do not interfere with a good cook - Zakynthos Island, cafe GYROPOLIS
In
Greece
, on the island of
Zakynthos
, there is a very good cafe called
GYROPOLIS Grill House
. It is located in the center of the resort of
Argassi
.
If you have to visit
Argassi
, or you will pass through this village, then we recommend to visit the cafe
GYROPOLIS
. You will not regret! We were in this restaurant about ten times and never got upset about it.
«
The bad dancer is hampered by the testicles
» - everyone knows this Russian proverb, about those people who know how to do something, but do it badly, and always look for an excuse for this, referring to the fact that something has prevented them.
I will try to slightly alter this saying, so that its meaning will change dramatically and acquire a restaurant theme:
«
The testicles do not interfere with a good chef
» - this is the saying that was born in my head, allowing to apply it to the staff (chefs and waiters) of the restaurant «
Gyropolis Grill House
», which is able to characterize this team as true professionals, 100% coping with work.
Foreword
Most of the street cafes and restaurants in
Greece
, especially in its resort areas, where many tourists stray along the street, invite people passing by to visit their establishment. They do this with the help of their employees. If any of the waiters are not busy at the moment, then he is surely standing on the street at the entrance to the cafe, and "catching" in the flow of people his potential but indecisive or undecided customers who are seen a mile away from their behavior - wander, stop at cafes, eyeing, crumple in place, but do not dare to go.
Is such a service a common culture of the Greek restaurant business, or is it just a visible factor in the struggle for the client, in the harsh conditions of close restaurant competition - I do not know. The most important thing for any tourist is that this service is unobtrusive. And if this condition is met, then this way of "luring" customers gives not only the benefit to the cafe owner, but also the benefit to the client himself.
From how professionally the employee behaves in the first seconds of casual communication on the street - a tourist (a potential client) can immediately understand what mood reigns in this institution, and what attitude will be personally towards him as a client if he nevertheless transcends threshold of this cafe.
What good is a cafe GYROPOLIS
Just to say that this cafe has a very good cuisine, it means to say nothing.
For the first time, we went to the cafe «
Gyropolis Grill House
» quite by accident, without any recommendations from third parties, we did not know anything about this restaurant, and did not even assume that there is such a wonderful tavern in
Argassi
.
Walking along the village of
Argassi
, we walked from our «
LOCANDA Beach
» hotel towards the center. Somewhere in front of the supermarket
BAZAAR
, we stopped at the pillar of the restaurant
GYROPOLIS
, for a blitz-familiarization with the menu.
We were immediately noticed by the waiter, cordially approached us and greeted. He then invited to visit their restaurant. The invitation was very tactful and unobtrusive. And he did it very well, with an interesting smile, professionally, tactfully, with a sense of humor, and somehow humanly friendly.
We could not resist such an invitation and entered the cafe.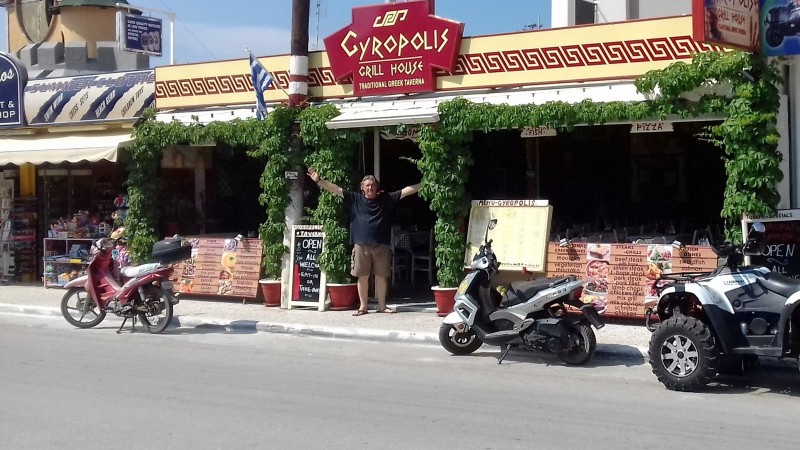 photo source: 
facebook
Having set our "fifth points" on the chairs, we began to study the menu. According to the description of the menu, as if everything is clear that this dish is made from such and such a grunting beast, and this dish is from another horned creature. But you can write anything in the menu, anything, but whether it will be delicious, what and how they will cook from this living creature - we still did not know.
We talked about this slightly out loud, not loudly, but still our conversation was heard by people at the next table. Three girls were sitting behind him, as it turned out, also Russians, and so they understood what we were talking about. They turned out to be quite sociable people, and told us that they had visited many
Argassi
restaurants, but they hadn't yet met a better establishment than «
Gyropolis
», with its excellent cuisine.
After such accolades, it became even more pleasant for us that, it seems, we were not mistaken with the choice and went where it was necessary.
About cafe staff
While preparing our order, we were watching a little bit of what was happening in the hall, and noticed that the «
Gyropolis Grill House
» cafe reigns in some kind of inherent only to this cafe, an internal friendly atmosphere between the staff and the visitors. One feels that the waiters know how to find a common language with almost any customer, no matter who he is: Russian, German, French, or even some nasty American. And the visitors themselves are not averse to talking with the restaurant staff, and even do it with great desire. Sometimes it even seemed that they were all friends and had been acquainted for a long time. But it is not.
The explanation of such friendly and warm relations between guests and staff consists in well-chosen restaurant workers, who are not only good specialists in restaurant art, but also the soul of any company.
Yes, yes, exactly, soul! Perhaps you have met people in life who are able to communicate in any company, attract attention to themselves, everybody wants to get worn out with such people, well, etc. Partly, the same applies to the staff of the cafe «
Gyropolis
».
I especially want to note that, quite often, we observed touching moments when a particular visitor was photographed with the staff of the «
Gyropolis Grill House
» restaurant, as a souvenir.
This suggests that guests enjoy not only cooked food, but also the restaurant staff, who magically create not only culinary dishes, but also a wonderful friendly atmosphere. And so many visitors want to be photographed with staff so that good photo memories remain.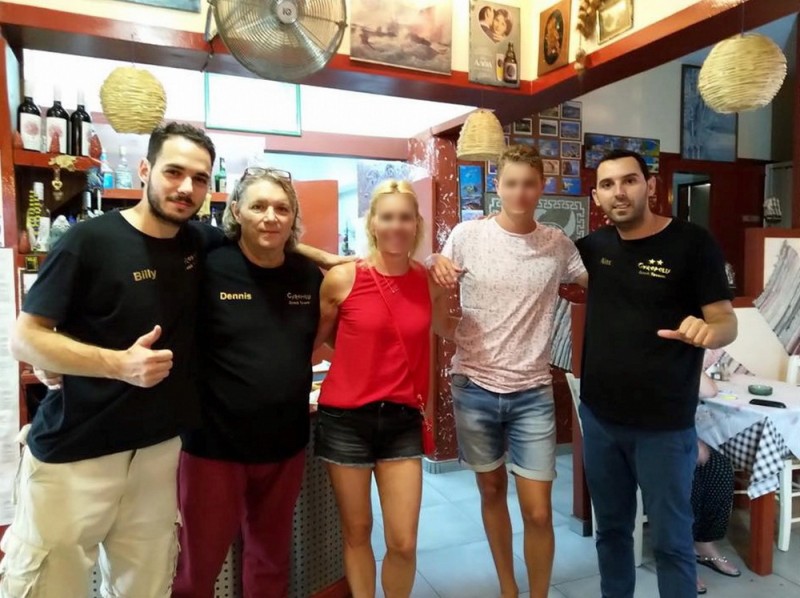 photo source: 
facebook
We also wanted to ask the staff of the restaurant with a request for a joint photo, but, unfortunately, we did not dare to do it, we were ashamed. We still blame ourselves for our indecisiveness at that moment, because of which we do not have a photo together. But, if there existed a "time machine" that allowed us to be transferred to the past, we would correct this mistake — we would definitely take pictures with these wonderful people.
Below is a photograph of the staff at «
Gyropolis Grill House
», which we now found on the Internet, on their facebook page.
Here they are, a good team and true professionals!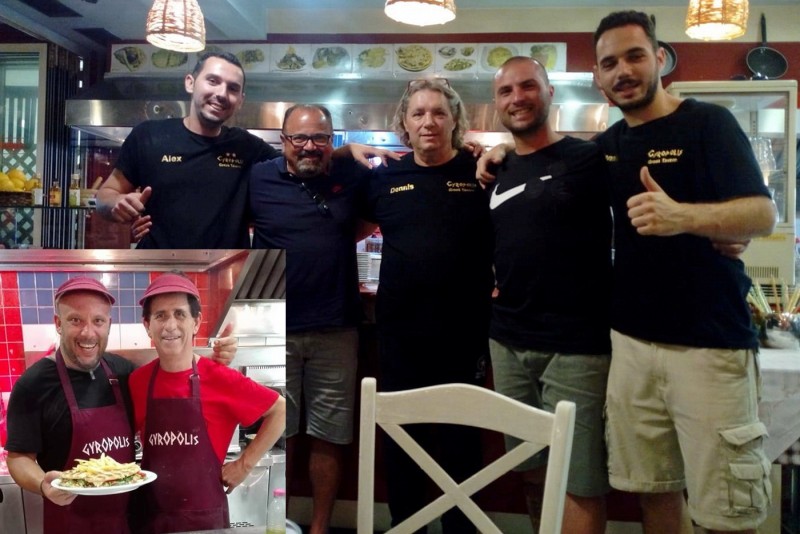 We were on the island of
Zakynthos
in 2016, and therefore we don't know who is working at
GYROPOLIS
right now, whether there are any previous employees or not. But if the same people work (who is depicted in the above photo), then without a doubt, we can tell future visitors: You are very lucky!
Food and service
When our order was ready and served, all our doubts were dispelled, the words of those girls (strangers at the next table) were confirmed, and we ourselves became convinced of the professionalism of the cook. Cooked food, as they say - turned out to be such a yummy that you swallow your tongue!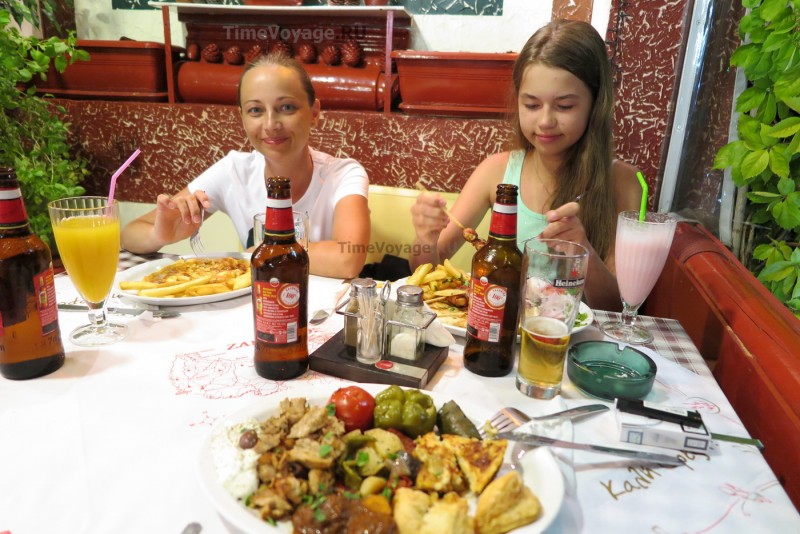 What else is important, as we noticed. If in the process of eating, ask or order something else, contacting not the waiter who initially served you, but to anyone else (who is now free and closer to you), then there is no problem with that he takes the order, everything is clearly and quickly executed, and there is no confusion in the service, as is the case in some other "bullshit cafes."
As I said, in the future, we went to eat at the restaurant «
Gyropolis Grill House
» several times during our vacation. We would come in more often every day if we were constantly in the village of
Argassi
. But, we almost every day traveled by car around the island of
Zakynthos
, and therefore fed on the way of our movements, and unfortunately, we didn't always have enough time and energy to visit our favorite cafe
GYROPOLIS
after returning to
Argassi
.
Summary
• everything is very tasty, inexpensive, and at the same time very large portions.
• very sensitive, attentive and professional team of employees.
• during repeated and subsequent visits, you are already remembered and greeted as old friends, and even remember your preferences in dishes.
We advise everyone!